Watch the video!
Embrace the space theme with this cool decorated busy house and all its educational elements. On the playing sides there are a funny robot with colorful lights, a funny space dog with a ball, rocket doors, a system of gears with planets and other games that develop fine motor skills, coordination of movements, and memory. The light is powered by 2 AAA batteries (included).
Description
Side #1
The main element on this side is a robot with movable legs and a lighting unit on its head: two side lights come on when you press a wooden switch, and the central one – when you turn its hand. near the robot's second arm you find a ratchet, that stimulates the development of interhemispheric communications in the brain. And around the robot there are an astronaut with an inverted picture, a lace-up sorter with six large geometric shapes, and a roller with multi-colored edges and numbers. While playing with a sorter and a roller, the child learns to count from 1 to 6 and gets acquainted with the basics of geometry.
Side #2
You will not miss this cool rocket shaped doors and two spinners beside them. The doors are equipped with three locks – a window, a hook and a latch. After opening all the locks, your kid gets access to the interior of the bizibord and can turn it into a garage, a vault or a dollhouse.
Side #3
There is a satellite with a convenient handle for left and right rotation, a spinner with three colored pucks on a circle decorated with space objects, as well as a labyrinth and three shape-shifters. The labyrinth strengthens baby's fingers and hands. Shape-shifters not only develop your kids imagination, but also stimulate logical thinking: the child can put the colored pucks in the labyrinth in accordance with the drawings in pictures.
Side #4
An unusual game is placed here: the ball-puck must be sent using a lever with picture of a dog in the spacesuit to another part of the playing field. And then with the help of a slingshot with an elastic band – back. You can play alone or with your mom, dad, sister or brother. Also on this side there are several clothing elements: a pocket with a button, a zipper, a belt lock and a boot with velcro and classic lacing. In the lower right corner there is a cache-box, decorated as a UFO: your baby can store favorite toys, stickers and other small things here.
The first half of the roof
Three sorters are placed here. Two of them are geometrically shaped – a circle and a hexagon – and each divided into three elements, segments and rhombuses, respectively.
The third sorter consists of six rotating geometric shapes with images of space objects. Each figure has a certain number of corners from 1 to 6 and is located in its own "house". The same two-color "houses" can be used for pucks in a complex labyrinth on the third side of the busy board.
The second half of the roof
On the right side of the playing surface there is a system of gears – the main large one with a handle and five small ones around. You can rotate the gears alternately in both directions. This kind of play helps the child to master the relationship of cause and effect.
On the left side there is a circle compartment with beads. While rotating the circkle they sprinkle and make a pleasant rustling sound, which is especially liked by one-year-old babies.
Photo gallery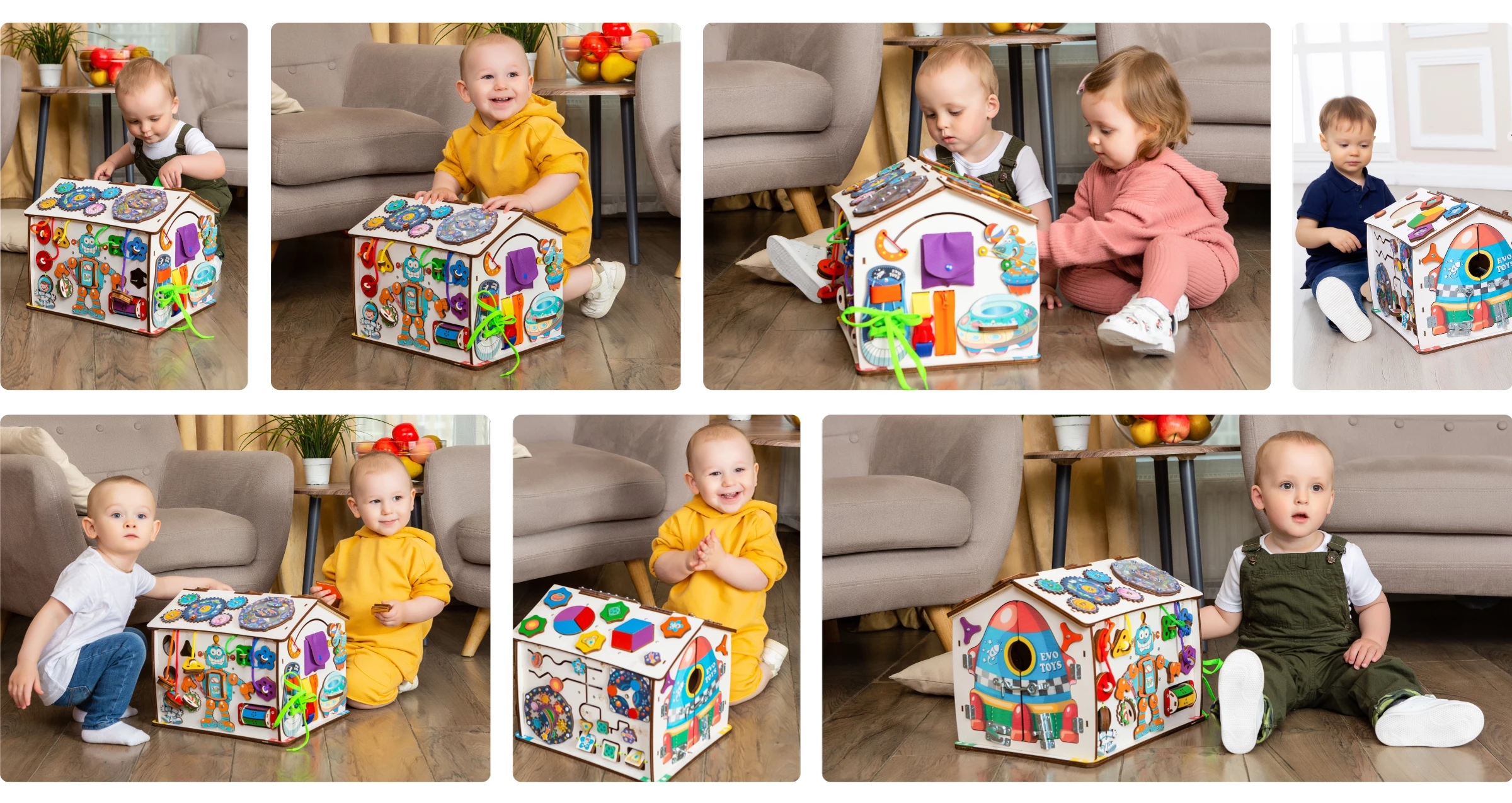 F.A.Q.
How can you clean a busy house before a child's play?

The toy can be wiped from dust and dirt using a dry/slightly damp soft cloth, sponge or wet wipe. Do not use abrasive sponges or aggressive cleaning agents or solvents.

How safe is this toy for a child? What certificates and documents does the product have?

All products on our website are 100% safe for your child. Our toys have passed all necessary tests and have all necessary quality certificates.

Show hidden content

Yes, "EvoToys" busy boards have a Certificate of Compliance with the requirements of the technical regulations of the Eurasian Economic Union (technical regulations of the Customs Union) TR CU 008/2011 "On the safety of toys" EAEU RU С-RU.ПХ01.В.01374/20 dated 04.06.2020 until 03.06.2023.

Does the house come assembled?

90% of the houses are delivered pre-assembled. Some series are supplied unassembled (you need to check this info in the product card). But don't worry: it will not be difficult to assemble such a house by hand. All instructions are included in the package of each busy board.

If it is mentioned that the house has lights are there any batteries included?

Yes, batteries are included.

Where are the batteries slot? And how can I change them?

You can find the battery compartment on the panel with the light module – but on the inside of the house. To replace 2 batteries, you need to open the cover on the battery compartment, remove the old batteries and replace them with new ones.

Are the parts of the busy board attached firmly enough? I'm afraid that the child will tear something off.

We understand your concerns perfectly, but be assured that the parts are quite firmly attached. Not every adult will be able to tear off the parts.

Does the busy house come in a box or not?

Yes, it does.